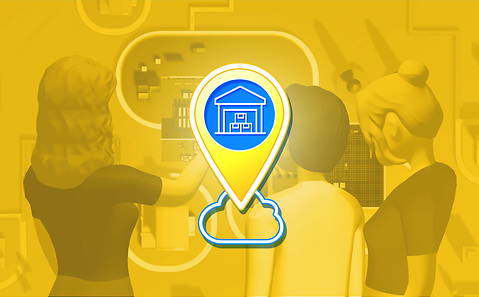 platbricks® Warehouse Management System
platbricks® WMS: Get a comprehensive overview of all processes
platbricks® Warehouse Management System
The Warehouse Management System (WMS) is the "heart and brain" of a warehouse. All logistics processes – inside and outside the warehouse – converge here. You may therefore find yourself in one of the following three situations:
Until now, you have not needed your own WMS, either because it was too expensive or because the ERP covers all necessary features.
You have an old WMS and would like to move to a new one to meet the latest client requirements.
Whichever situation you are in, platbricks® WMS is the right solution for you. The warehouse management system you choose is not just an investment for you, but also a long-term partnership.
Function Overview platbricks® WMS
With platbricks® WMS, the flow of goods within a warehouse from goods receipt to goods issue is managed, optimized, and executed with smart wearables - independent of manufacturer and hardware. The WMS covers all processes from receipt, storage, and picking to goods issue. Inventory processes can also be started intuitively via the control station and carried out quickly and digitally with the help of mobile apps.
The standard modules of the WMS also offer the option of adapting them individually to your needs and processes. The automation of warehouse processes can also be mapped via platbricks®. For example, the system has components for the connection of forklift control systems. Using the integrated material flow computer (MFR), you communicate directly with programmable logic controllers (PLC) and thus integrate your automatic material flow systems.
Please click on the individual functions to learn more.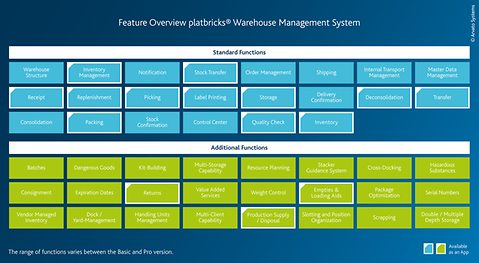 platbricks® WMS - As Basic or Pro Version
platbricks® WMS Basic
With the platbricks® WMS Basic, we have developed a simple and efficient standard solution for small and medium-sized businesses to enable them to take the step into the digital world cost-effectively and via plug & play.
Suitable for Whom? For Example For:
Micro Depots
Small Retailers
Industrial Companies with Spare Parts Warehouses
Franchise Companies
Mapping of Internal Storage Areas
Medical Practices, Nursing Services, Health Care Institutions
platbricks® WMS Pro
The WMS Pro from platbricks® is a fully comprehensive warehouse management system according to VDI standard 3601. The system covers all processes, from receipt, storage, and picking to goods issues. 
Suitable for Whom? For Example For:
Industrial Customers
Automotive (Manufacturers and Suppliers)
Hospitals
Retailers and Wholesalers
eCommerce Companies
Delivery Services
Logistics Service Providers
Medical Technology and Pharmaceutical Companies
Reference in Focus

For a long time, Helmut Bünte GmbH operated paper-based and highly manual in the intralogistics area. Today, Bünte relies on our platbricks® Warehouse Management System Pro, which maps the complete end-to-end process there and supports the employees with smart, mobile processes from goods receipt to goods issue. 
"We have digitalized our analog information flow in the warehouse through platbricks®. Swap pen and paper for tablet and scanner. Sounds unspectacular at first, but with such a powerful partner as Arvato Systems and such a versatile, adaptable but intra-logistically stringent solution as platbricks®, it opens up many possibilities for process optimization in the future." -  Matthias Groneick | Operational Management Helmut Bünte GmbH
Learn more about this project
platbricks® Warehouse Management System - Benefits
Mobile processes are included in the module
Usage-based billing model
Sustainable architecture for growing business
Full transparency of all processes, orders, movements, and inventories
Short implementation times
platbricks® WMS Demo-System
Test platbricks® WMS for free
Would you like to get to know platbricks® Warehouse Management in practice? Then simply try it out for free over a period of 14 days! Set up your warehouse with your individual master data and keep track of all processes in the warehouse. Also, use our platbricks® app, which you can download for free from the Google Play Store, to perform the various processes. Our short, explanatory videos make it easy for you to get started with the demo system.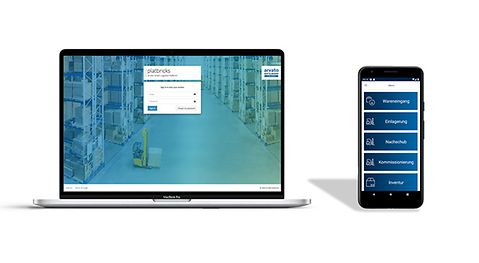 Click here for the demo system
Fill in now and apply for trial access
platbricks® WMS - As Basic or Pro Version
platbricks® Use Cases
Whether yard management, subcontracting, or vendor managed inventory - platbricks® offers the right solution for many supply chain challenges. Learn more and download our Business Solutions for free!