Transport Management System (TMS) - The Transport Logistics of the Future
Digital Solutions for Transparent and Efficient Transport Planning
Systematical Transport Management
Transport logistics has always been a central element in every supply chain. The digitalization of logistics is creating numerous new opportunities in transport, but also challenges. Nevertheless, digital solutions are becoming increasingly important, so transport management systems (TMS) are playing a greater role than ever before.

A TMS supports logistics from the actual transport planning and execution to the settlement of costs and revenues. With the right processes and functions, on the one hand, the transparency of one's own transports can be improved enormously, and on the other hand, there are also massive cost savings.
Our Services for Your Success
Transport logistics has not only always been a central element in the supply chain, but also in our solution portfolio. In particular, TMS solutions in the SAP environment are our special discipline. 
Extensive Know-How
We offer profound process knowledge in the transport and logistics environment and know how to represent these transport processes in SAP systems optimally.
Many Years of Experience
We look back on a long history. For example, at the time of SAP R/3, we already extended the core functionalities with our own add-on for transport logistics.
Flexible Customization Options
We have developed numerous extensions to the SAP standard. However, we do not only focus on SAP, but we also close individual digitization gaps with our cloud logistics platform platbricks.
SAP Transportation Management (SAP TM)
Whether by land, sea, or air, it is important to ensure fast, safe, and cost-effective delivery to transport goods. SAP Transportation Management (SAP TM) is the ideal platform for this.
As part of the supply chain, the platform supports companies in transport services from order entry to planning and execution to invoicing, thus ensuring efficient processing in the movement of goods. Particularly with multimodal processes in the area of transportation, transparency in the supply chain is essential.  SAP TM guarantees this by mapping its transport requirements across the entire end-to-end process.
The SAP TM can also be integrated with mission-critical SAP ERP modules, such as SAP EWM (SAP Extended Warehouse Management), SAP EM (SAP Event Management), or ERP components of SAP S/4HANA which has a positive impact on the entire value chain.
Another component with which the SAP TM acts is the SAP Logistics Business Network (SAP LBN), a cloud-based solution for improved cooperation between logistics business partners.
Conclusion: SAP TM is a Transport Management System (TMS) fully integrated into SAP S/4HANA and represents a future-oriented step towards the digitalization of the supply chain.
SAP Logistics Business Network (SAP LBN)
The SAP Logistics Business Network (SAP LBN) is part of the Business Network Initiative, a cloud-based offering for the cooperation of business partners with a focus on logistics. The SAP Logistics Business Network aims to link different business partners along the supply chain easily and efficiently.
In addition to networking, SAP LBN supports various processes - such as tendering and awarding subcontracts, invoice verification, or working on jointly defined milestones. In addition, SAP LBN uses what is known as dock appointment scheduling, which allows a department store operator to define
when the docks are open
when a forwarder can pick up the goods
when a forwarder can book a dock.

Data is exchanged in real-time along the entire supply chain. SAP LBN currently focuses on SAP Transportation Management (SAP TM). For this purpose, the SAP Logistics Business Network provides three options: Freight Collaboration, Global Track & Trace, and Material Traceability.
Core Functions of SAP LBN
Freight Collaboration

The Freight Collaboration option offers digital networking of shippers and forwarders and thus an environment for efficient collaboration for both business partners. It enables a structured exchange of digital logistics data as well as real-time transport planning and delivery monitoring.

Global Track & Trace

The Global Track & Trace option enables companies to gain real-time visibility into the entire supply chain of materials and products and track shipments. This leads to cost optimization, and risks can be reduced through early problem detection in the supply chain. Access to cloud-based tracking information provides visibility across the supply chain and the ability to compare planned and actual milestones in business processes. The Global Track & Trace option differs from Freight Collaboration's tracking in that it can be customized.

Material Traceability

The Material Traceability option of the SAP Logistic Business Network is used for the tracing of material used in production processes. This works through data sharing within the supplier network. This is made up of the suppliers who have taken over individual production steps of the end product. Furthermore, the Material Traceability option makes it possible to trace where the raw materials or precursors used come from and how they were obtained, which ensures a high level of transparency in the supply chain.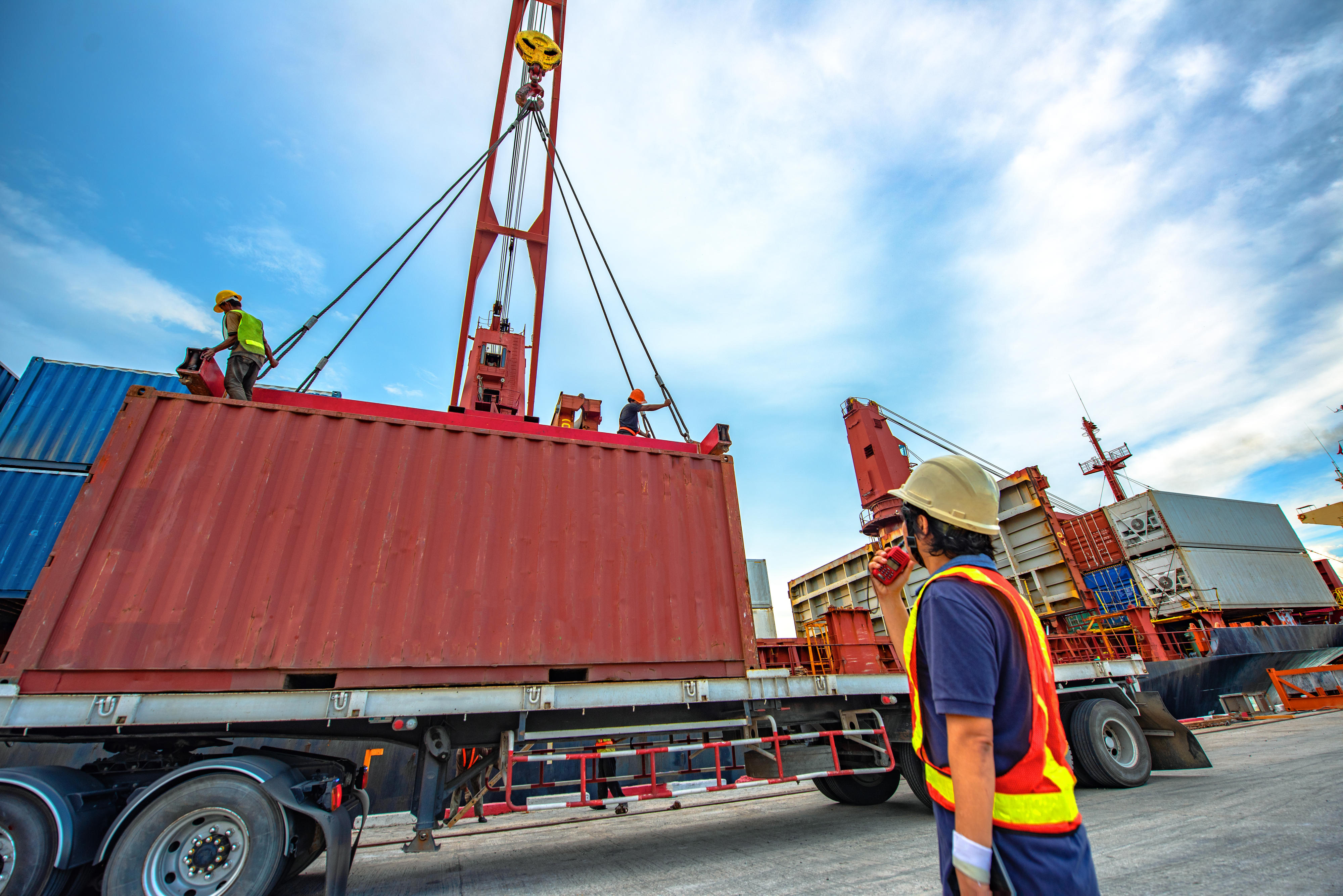 More about SAP LBN on Our Blog
With the help of SAP LBN, various business partners along the supply chain are to be connected even better and more efficiently in the future. In this blog post, we explain whether and how this can be achieved. 
Integration of SAP TM in Combination with SAP EWM
Warehouse and transport belong together. That's why SAP TM integrates seamlessly with the processes of SAP Extended Warehouse Management, or SAP EWM for short, and creates end-to-end transparency in your supply chain. This integration will continue to grow in the future. In this context, we support you in the integrative topics and advise you fully in the area of warehouse management.
Our Highlights for the Integration of SAP TM with SAP EWM
SAP TM: Flexible Customization Options with platbricks
The SAP Transportation Management System offers a comprehensive solution for your transportation processes and can map them end-2-end. However, certain flexibility and adaptability are required in some cases, where SAP as a standard software can reach its limits.
In practice, it is often the case that a project begins with mapping a solution that is close to the standard. Still, it often quickly turns out that the idea and the reality do not fit together very well, and in some cases, individual customization options are required.
This is exactly where our cloud-based logistics platform platbricks comes in. Our innovation platform within logistics was developed based on Microsoft Azure and can be integrated into SAP via numerous interfaces. Thus, we can adapt and expand various processes to your needs without having to make deep interventions in your SAP system.
Use Cases of SAP TM and platbricks
Tracking of the Transport Process via App

Particularly when your own fleet is in use, it is advantageous to be able to track the transport process precisely. For this purpose, we offer our own mobile app that provides the order data for the driver and can be used to document the activities. This also includes navigation as well as the replay of geo data for tracking. Numerous functions complete the solution, such as an expense report or empty container management.

Time Slot Booking Management

In addition to the transport processes, platbricks also has extensive functions in the area of warehouse management and fits in perfectly with your SAP processes here. One of these functions, which also plays a role in transport again and again, is the management of time slot bookings. platbricks offers extensive functions for this in the planning and management of time slots as well as check-in and check-out processes.

Learn more about Yard Management wiht platbricks

Partnership with Timocom

As a partner of Timocom, platbricks offers the integration of transports to the Timocom freight exchange. Thus, transports can be tendered and assigned as well as tracked afterward.
How Far Have You Got with Your Transport Management System?
Find out and discuss with our experts what opportunities you have to exploit the potential of digital solutions for transport logistics. Get your personal logistics check-up now!
Transformation, not Migration - Transport Management and SAP
With the success of SAP ERP and the associated transport solution LE-TRA in the 1990s, SAP has established itself as an important competitor in the TMS market. The solution offers a wide range of functions and is an essential part of many logistics chains. We have also implemented the solution for many customers and even extended it with our own add-on, which solved many challenges in transportation planning.
Due to the increasing complexity and new requirements for transport processes, the solution was constantly developed further, but it also reached its limits more and more often. With this in mind, SAP decided to build a new, standalone transportation solution that could still be integrated with the adjacent ERP processes but was designed from scratch on a "greenfield" site. This solution was released around the 2010s as SAP Transportation Management or SAP TM.
With the introduction of SAP S/4HANA and the associated simplification of applications, SAP TM established itself as the strategic solution for transportation processes. While the LE-TRA component can still be used, any innovation occurs exclusively in the SAP TM component of S/4HANA. As a result, many customers are now faced with the task of transforming their transport solution. This is by no means a simple task, but at the same time, it also offers huge opportunities.
We Accompany You from Transformation to Project
Such a transformation is no simple task and requires precise planning. With our decades of experience in transport logistics, including LE-TRA in particular, we know what challenges arise in such a project. Based on this, we have developed and tested a process model that individually addresses the needs of such transformations and charts a clear path.
We address individual stakeholder needs so that management and users can develop an understanding of the upcoming tasks and can make well-founded decisions.
We develop a roadmap that is tailored to your needs and requirements.
We ensure that your users are optimally prepared for the project and that a common language is found.
Frequently Asked Customer Questions about SAP TM Transformation