Corporate Values, Commitment, Environment
Responsibility for sustainability
Acting with Responsibility - for the Company and Society
For us, entrepreneurial success is measured not only by economic indicators, but also by how sustainably and responsibly we act. We see ourselves as part of and a partner in the society in which we live. That is why we assume responsibility - towards our employees, society and the environment.
In our current Bertelsmann CR magazine entitled "Faces of Responsibility," employees from several divisions discuss what motivates and drives them to assume responsibility in very different ways and put the Bertelsmann Essentials of creativity and entrepreneurship into action.
Download "Faces of Responsibility" right here
Corporate Values and Guidelines
"As an innovative company, we need and promote strong personalities. Motivation, creativity and commitment are the hallmarks of our employees. To achieve this, everyone must be able to develop as freely as possible. I am glad and proud that Bertelsmann's corporate values embody exactly this."
Arvato Systems Group
Diversity
For us, employee diversity is a prerequisite for innovation and an essential factor in the company's sustainable prosperity. We value what we have in common, but we are working to value our differences equally: to recognize, implement and further develop the potential and abilities of all our employees. With a more diverse workforce, we are more competitive and better able to grow as a company.
be.queer
Right from the start, employees of Arvato Systems have been active in the Bertelsmann employee network "be.queer". "be.queer" is the first cross-divisional network for LGBTIQ employees and supporters at Bertelsmann and is committed to an open and creative working environment for all employees, regardless of their sexual identity or orientation.
Christopher Street Day | Pride Parade
Arvato Systems participated together with UFA in the parade of the Christopher Street Day (CSD) on July 7th in Cologne with its own car. Under the motto "Diversity is our daily business!", the two Bertelsmann companies joined forces to promote diversity and equal opportunities by participating in the CSD. 
Click here for the press release about the Pride Parade in Cologne
IDAHOBIT
Show your colours! Since 2005, the International Day against Homo-, Bi-, Inter- and Transphobia has taken place annually on 17 May to draw attention to the discrimination of people who deviate from heteronormativity in their sexual orientation or gender identity. Arvato Systems has taken part in IDAHOBIT 2019 with numerous rainbow flags to send a clear signal against homo-, bi-, inter- and transphobia. 
Memberships, Certifications, Awards
Also through our membership in various organisations and initiatives, we are committed to issues that are important to us. For example, Arvato Systems is an active member of the 30 LEEN networks (Learning Energy Efficiency Networks), we are involved in the International Association of Broadcasting Manufacturers (IABM), are active in BITKOM, Germany's digital association, and are a member of many other associations. Certifications such as ISO/IEC 27001 or ISO 9001 can be found at Arvato Systems, as can various certifications from strategic partners such as AWS, Microsoft or SAP. Our entrepreneurial commitment was honored, for example, with the Lünendonk Business-to-Business Award in the "Performance" category or with the Digital Leader Award. But we also have a lot to show when it comes to our team and working conditions: Since 2014, Arvato Systems has been recognized annually by the Top Employers Institute as a top employer and has received various awards for its Kuala Lumpur location, including the "HR Asia - Best Companies to Work for" award. We also received the Fair Company Seal, an award from the Fair Company Initiative of Handelsblatt and Wirtschaftswoche and the Prout Employer Seal. And the partnership with the non-profit IT company AfB shows that we are also active in the social-ecological field. For years we have had AfB reprocess IT and mobile devices that have been taken out of service. This protects the environment and promotes the inclusion of people with disabilities.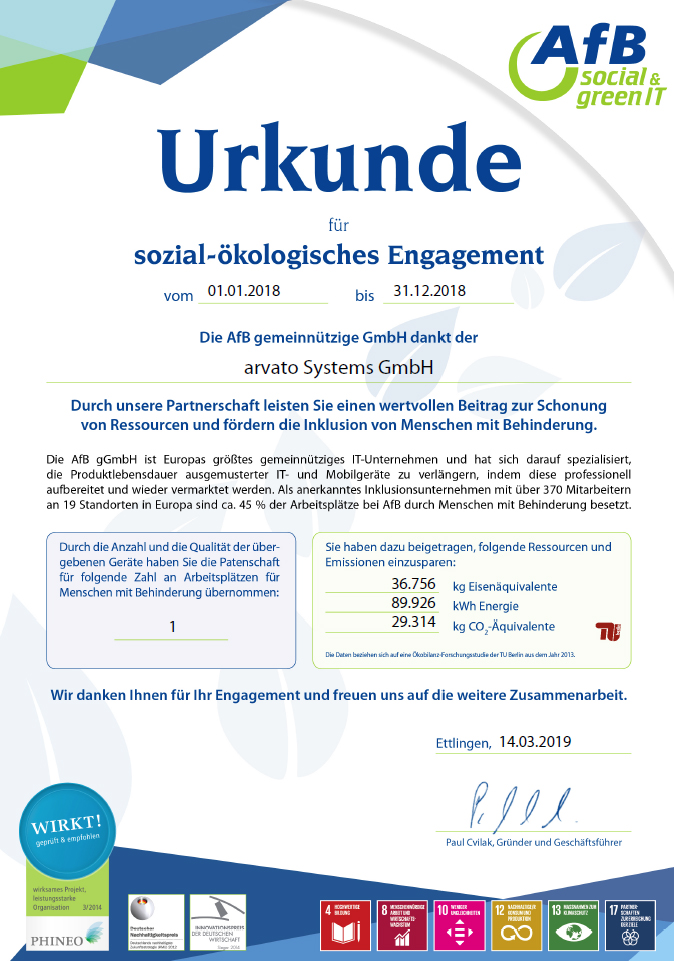 As Arvato Systems, we are also included in the group-wide ratings of various organizations - you will find a selection here:
Education and Media Literacy
Many of our services are relevant to education, media literacy and digitization. We want to use our expertise and experience in these areas to make our contribution to society. Children should learn to use the Internet, mobile technologies and media in a meaningful way - and learn this best interactively.
For many years, Arvato Systems has supported "erlebe IT" (German for "experience IT"), BITKOM's school initiative that promotes digital literacy in schools throughout Germany. For "erlebe IT", digital competence means, on the one hand, a competent handling of digital media and, on the other hand, the communication of a basic understanding of IT and the creation of interest in the IT world. The aim is to enable children and young people to deal with digital media in a mature, critical, confident and creative way. For us, this is a basic prerequisite for digital self-confidence and participation in today's and tomorrow's world of life and work. With appropriate offers, "erlebe IT" also wants to make a contribution to the promotion of young talent in the IT field. In order to achieve these goals, workshops for schoolchildren and further training for teachers are organised and teaching materials made available.
Environment
Green IT is possible! As an IT company and multi-cloud service integrator, Arvato Systems considers it important to use modern IT to make a contribution to sustainable energy and resource management. We strive to permanently improve our energy efficiency and that of our customers through the use of our solutions and products. With modern cloud-based technologies and solutions, we ensure that information and communications technology is more in tune with our environment today and in the future.
Bertelsmann Energy and Climate Policy
The Bertelsmann Executive Board has adopted a Bertelsmann Energy and Climate Policy. The document reaffirms the company's commitment to minimizing the negative effects of its business activities on the environment and climate, and describes specific measures for effective environmental and climate protection. These include purchasing renewable energies, increasing energy efficiency, and developing climate-friendly products and services.
The companies' local commitment is reinforced by the Group-wide target of reducing greenhouse gas emissions  by 20 percent by 2025 compared to 2014. The new "green.screen" digital environmental platform from Arvato Systems is used to measure local energy consumption and calculate the corresponding emissions. "Green.screen" is currently being used as part of the Group-wide environmental data collection process at some 500 Bertelsmann locations worldwide.
Reporting on Corporate Responsibility
Arvato Systems is part of the Bertelsmann Group. Reporting on corporate responsibility (CR) is thus included in the comprehensive information that Bertelsmann makes available across the Group. Since 2011, Bertelsmann's corporate responsibility reporting has followed the international guidelines of the Global Reporting Initiative (GRI), the world's leading standard for sustainability reporting by international companies and organizations, and known since 2016 as the "GRI Standards. The complete documentation can be found here on the Bertelsmann website.