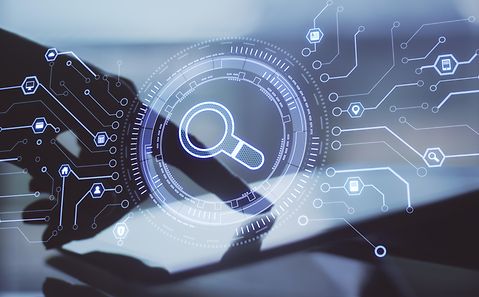 Efficient Vulnerability Management With VAREDY
For a modern Vulnerability Management
Automate Vulnerability Management with VAREDY
13.10.2022
Digital Transformation
Security
Technical
Hybrid IT infrastructure that is operated on-premise and on-cloud offers a lot of attack surface for cyber criminals. Security gaps must be identified through systematic vulnerability management. VAREDY, Arvato Systems' vulnerability management platform, lays the base for efficient remediation processes and supports organizations in minimizing risks.
Companies benefit in many ways from highly connected and, at the same time, flexible IT infrastructure that allows employees, for example, to access cloud-based IT resources via various mobile devices. Modern IoT (Internet of Things) technology is also creating more and more opportunities to integrate new devices into the digital world and, for instance, in manufacturing, to digitalize not only individual machines but even entire production facilities. However, as digital transformation progresses and systems become more interconnected, the attack surface in corporate IT grows. This increases the risk of falling victim to a cyber attack.
The Goal: Automate Vulnerability Management Processes
To make matters worse, cyber criminals are becoming increasingly professional. Cyber crime has become a very attractive business and is therefore often systematically carried out by specialized teams: Attackers track down even moderately severe vulnerabilities and exploit them for criminal purposes. Therefore it is not surprising that more than 80 percent of all companies were already a victim of cyber attacks. Apart from potential reputational damage, affected companies suffer average financial losses of over 3.7 million euros per incident. For IT managers, it is therefore essential to significantly improve IT security. In addition to solutions that serve to detect and manage attacks as they occur, powerful vulnerability management with lean and efficient processes is needed to actively prevent attacks. This is exactly why we developed VAREDY, our vulnerability management platform. VAREDY helps security managers and IT professionals to automate and simplify their vulnerability management processes.
Vulnerability Management Challenge
Typically, organizations rely on tool-based, periodic vulnerability scans to detect vulnerabilities. Scanners check systems for an immense repertoire of possible vulnerabilities. The industry standard CVE (Common Vulnerabilities and Exposure), with almost 200,000 entries, which is constantly being expanded, serves as the basis. The scan output is a list of variants of how a particular software installation or configuration on a system can be exploited. The method and difficulty level of exploiting a vulnerability influence the priority with which a vulnerability should be remediated. The larger the IT landscape in scope and the older and heterogeneous the systems, the more difficult it is to identify precisely these cases. Furthermore, although vulnerability reports provide a basis, they do not help with the subsequent processes for eliminating vulnerabilities.
Vulnerability Management in Practice: Remediate Issues Reliably
In order to remediate a vulnerability, a system administrator needs to implement an appropriate remediation action. Subsequently, it makes sense to run another vulnerability scan to verify that the vulnerability has actually been closed. The problem here is that a scanner does not report which vulnerabilities have been successfully closed. It only shows which vulnerabilities were detected at the time of the scan. At this point, vulnerability managers usually compare and manage multiple spreadsheets to determine the delta between scan times, to track the progress of remediation actions, or to document false positives and exceptions. This is when many companies give up or just try to do only "what is absolutely necessary" - with the result that the attack surface of the systems continuously grows.
Varedy for Efficient Vulnerability Management Processes
This is where our SaaS solution VAREDY comes into play. It helps security managers and IT professionals to automate and simplify their vulnerability management processes. For this, VAREDY processes data from common vulnerability scanners by vendors such as Tenable or Rapid7, as well as from the asset inventory. VAREDY classifies detected vulnerabilities according to their underlying cause, aggregates them and translates them into compact, actionable remediation tasks. Plus, each remediation task is enriched with practical recommendations based on proven best practices and established vulnerability management methods. Instead of accepting elevated risks or increasing personnel deployment, companies benefit from more efficient vulnerability management processes thanks to VAREDY. They are able to manage vulnerabilities efficiently - from the identification of a vulnerability, to change management and verification of successful remediation.
Vulnerability Management Made Easy
Vulnerability management can only make a difference if it fits smoothly into stable IT operations. VAREDY cuts out busy work, automates data processing, integrates into the existing tool landscape for asset and change management and facilitates every task a vulnerability manager has to work on - and thus simplifies vulnerability management in the company as much as possible. This allows everyone involved to focus on what matters: the fast and effective remediation of vulnerabilities.
The VAREDY Features at a Glance
Aggregation and translation of vulnerabilities into compact, actionable remediation tasks
Significant reduction of time & effort to efficiently manage vulnerabilities
Easy tracking of remediation actions and progress
Recommendations for remediation actions based on actual experience in IT operations
Simple exception management
Integration of ticket systems for more effective change management
Various notification options
Granular, role-based access controls so that all users can work in the same system but can only see and edit what is relevant to their respective roles
Consolidation of all vulnerability data in one system
KPIs, trends, and statistics on process performance
Audit-proof documentation with a 12-month history
Flexible reporting options that meet the needs of all stakeholders in the vulnerability management process
In conclusion, the SaaS solution VAREDY is a powerful vulnerability management platform that supports the entire vulnerability management process through automation and custom-tailored tracking functionalities. VAREDY consolidates all necessary information in one system, saves time-consuming busy work for those responsible and, above all, creates clarity and transparency in vulnerability management. As a technological basis for efficient vulnerability management processes, VAREDY makes an important contribution to better IT security in the company.