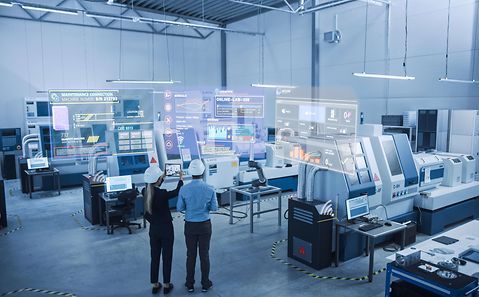 IT Solutions for the Digital Transformation of the Manufacturing Industry
Digitize Manufacturing. Securing Future.
Set the Right Course for Your Manufacturing Company on the Way to Industry 4.0
Material bottlenecks, unstable supply chains, a shortage of skilled workers, and an increasing complexity of day-to-day business - just some of the challenges facing manufacturing companies. For manufacturing companies to remain a model of success in an increasingly fast-changing and uncertain environment, Digital Transformation must succeed. It is no longer a question of whether Digital Transformation is necessary - what matters is how quickly and successfully it is implemented. Take advantage of the opportunities offered by Digitization for process efficiency, customer orientation, and new business and sales models. The fact is that companies with a high level of digital maturity are more resilient in an environment of growing uncertainty and manage to extend their competitive edge with the help of smart IT solutions.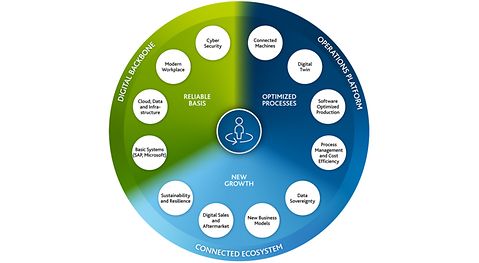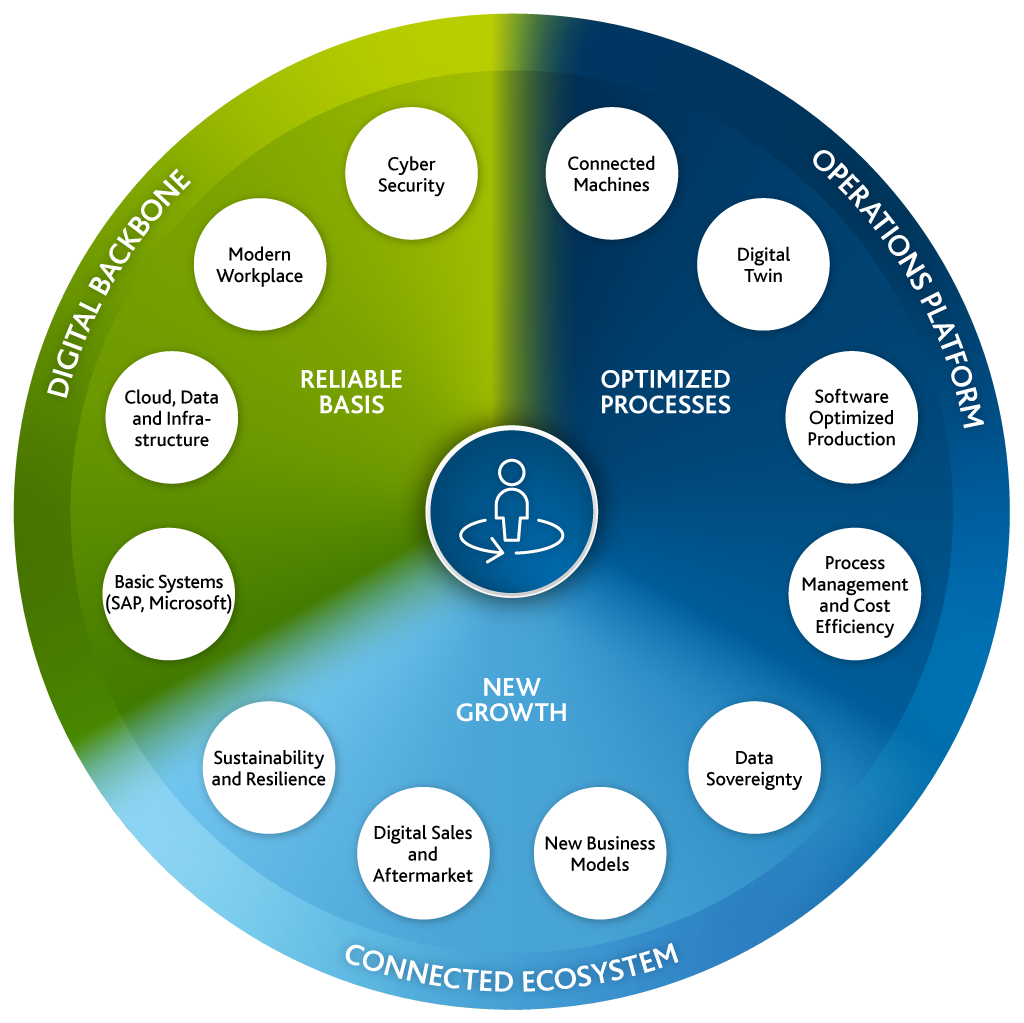 Digital Transformation is rarely a linear project. Choose a modular approach that solves urgent pain points while preparing for a digital future. With a strong Digital Backbone, you create the conditions for a new IT era. Operations Platforms create the foundation for transparency of your data and processes and thus successful, digital business models - for more growth you provide with the step into Industrial Ecosystems, in which data is monetized and new digital value-added services become possible.
Extract from Our References
Worth Knowing about the Digital Transformation of the Manufacturing Industry
What are the prerequisites for successful Digitization?

Digital Transformation needs a strong base: control legacy, reduce technical debt and a performant, integrated core of systems. This creates a reliable foundation for your critical processes and paves the way for new technologies and growth.

How does IT enable the management?

The ways to achieve high visibility and live insights into your business start in the cloud. Based on a strong Backbone, and complemented by the right Cloud strategy, you open the door to make IT an enabler for management. Industry 4.0 needs Operations 4.0: Short development times, standardized interfaces and clearly structured data flows enable (process) optimization in the "here and now" - user-friendly and cost-optimized.

How can partnerships within an Ecosystem provide growth?

In addition to managing existing processes, it is important to create the conditions for future growth. We believe in growth from Ecosystems. Operations Platforms structure your own data - now monetization strategies are missing. We advise you on building new, digital value-added services and business models. In doing so, we structure current and upcoming regulations, guide you in building partner and data ecosystems, and leverage our years of experience in transforming sales and marketing units.
Certifications
Rely on us: information security, quality management, IT service management. For our customers, we regularly have our performance measured and extensively certified. You benefit in the long term from our adherence to the highest quality standards and our technological expertise in the form of a trusting and highly professional collaboration.
Learn more about our certifications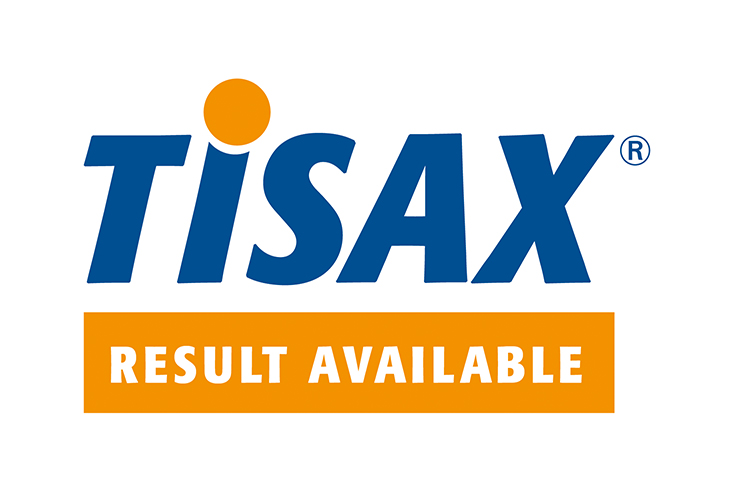 TISAX® Assessment for the Automotive Industry
We fulfill the requirements of our customers in the automotive industry for the highest level of information security - this is an absolute priority for us and has been officially proven with a successfully completed assessment with the scope ID SK65M5 at the highest possible level. TISAX® participants can view the results under the assessment ID A15NK9-1 on the ENX Association portal.
To the results in the ENX Portal