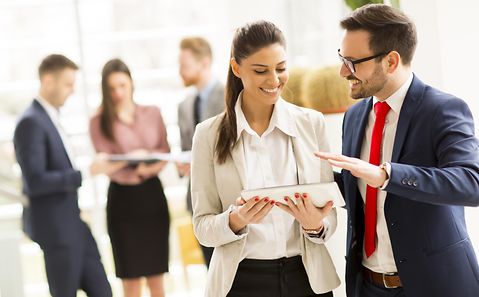 Enterprise Content Management
Capture, manage, and disseminate content independently of channels
Output Content On All Relevant Touchpoints
A company's corporate website is crucial to how it represents itself digitally to the public. However, as digitalization continues to advance, more and more channels and touchpoints via which potential clients come into contact with a company. A powerful content management system (CMS) is required to keep an eye on all these channels and output content consistently at different points of contact.
Content Management System as Content Hub
Being able to capture content easily, manage it efficiently, prepare the content according to requirements, and output it across various channels poses an immense challenge for many companies. This is precisely where enterprise content management systems come into play. Interfaces to various third-party systems ensure that content from different sources is incorporated into the content management system. This way, it becomes a central content hub. A cross-channel editorial system then makes it possible to publish content prepared for specific target groups at different touchpoints, for example, on websites, portals, online shops, apps, and social media.
What Does a State-Of-The-Art Content Management System Offer?
Multilingual support
Modern content management systems allow website variants to be published in numerous languages. Integrated translation management systems (TMS) initiate translation requests from the content management system. The translations flow automatically into the content management system and are available for publication on the target page.
Personalization
Based on an analysis of customer behavior, history, and the social contacts of individual visitors, it is possible to output fully dynamically generated, personalized content in real-time via the content management system.
Shop integration
Enterprise content management systems have pre-built interfaces for seamless eCommerce integration and enable a reciprocal and smooth exchange of data. This makes it possible to create shopping experiences that combine brand content with real-time product data.
Cloud-based
There are various cloud-based content management systems. This significantly reduces the costs for maintenance, support, and scaling and gives employees more time and freedom to focus on their professional tasks.
Artificial intelligence
More and more content management systems have AI-based functionalities. Based on machine learning, it is possible, for example, to analyze existing data and output ideally suited personalized content or make personalized recommendations.
Our Services as Content Management Project Partner
Experienced systems integrator
Development of customized content strategies
Implementation of needs-based website concepts
Website roll-outs with language variants in up to 150 countries