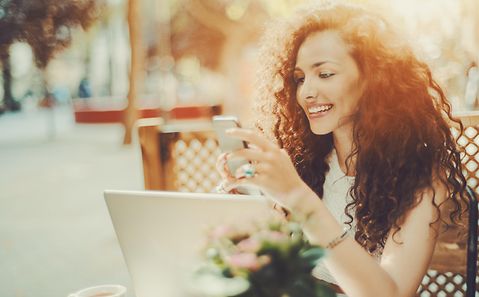 SAP Commerce Cloud
The E-Commerce Solution for Retailers
Customised E-Commerce - Whenever/Wherever/However Your Customers Want.
An omnichannel strategy is a must for retailers today. Offer your customers the best digital shopping experience - at any time and on any channel.
SAP Commerce Cloud is the optimal solution for this. Flexible and expandable, the e-commerce module of the SAP Customer Experience Suite provides you with a commerce platform that meets all omnichannel requirements - today and in the future. 
Our many years of retail and industry expertise enable us to build the perfect e-commerce solution for your business.  With SAP Commerce Cloud as a central platform, we help you bring together all the important systems, data and processes. Offer your customers a customised shopping experience - anytime, anywhere, through any channel.
9 Good Reasons for the SAP Commerce Cloud
The flexible ...
EXPANDABLE - enhance the customer experience with chatbots, messenger services, web apps or IoT devices.
FLEXIBLE - experiment quickly and easily with touchpoints, new processes or technologies, regardless of the limitations of your backend systems
CONNECTING - simplify and accelerate collaboration with technology and creative partners through the use of an openly accessible platform.
cross-channel ...
INTEGRATIVE - create customised buying experiences for your customers, regardless of the channel or device they use.
INTUITIVE - simplify and accelerate the buying process with intuitive mobile browsing and features such as single-click purchasing.
IMMERSIVE - offer mobile customers direct contact with additional added values such as direct notifications or location-based services
e-commerce solution from SAP.
TARGET ORIENTED - increase your conversion rates: By centrally managing product information, you present each customer with the right products at the right time.
TAILOR-MADE - design and manage personalised shopping experiences for a customised customer experience, based on machine learning capabilities and real-time analytics.
COMPREHENSIVE - provide your customers with a compelling omnichannel order experience that allows for on-demand orders and returns anytime, anywhere.
B2B vs. B2C: Opportunities through Added Value
B2B E-Commerce: Value-Added Services
B2C E-Commerce: Challenges & Opportunities
Increasing digitalisation makes markets more transparent - comparing products and manufacturers easier. The optimisation of B2B business processes in e-commerce increases the competitiveness of manufacturers and creates new approaches to customer loyalty.
The digital availability of product data and order information enables the development of new services, for example in logistics, in payment processing, in consulting as well as in the use of products.
The ideal solution
The ideal solution is a combination of a B2B online shop based on the SAP Commerce Cloud and an optimised e-commerce organisation. The B2B shop is linked to existing in-house systems and the organisational structures and processes are adapted. Simple integration and flexible configuration are core factors for the successful introduction of a B2B e-commerce solution that allows manufacturers and wholesalers to further optimise their ordering processes.
Availability creates opportunities
The immediate availability of product data, customer data and order information in the B2B online shop can open up new services and at the same time create a lock-in effect with customers. Examples of new services:
Customer-specific prices and stocks
Product configurators
Automated re-orders
Individualised shipping and delivery logistics
real-time stock and delivery information
Invoice overviews and order history
Electronic invoices
Complaint tracking
Rental and financing models
Budget and controlling tools
Self-service warehouse with consumables on site
In addition, customers can quickly and directly access current product data, availability and ordering information via intelligent search and navigation functions and thus optimise their ordering processes.
Fast Moving Consumer Goods (FMCG)

Fast moving consumer goods (FMCG) in online retailing are goods that can be turned over quickly, such as hygiene products, cosmetics, tobacco products or food. One of the major challenges in the sale of FMCG is interchangeability - retailers as well as manufacturers can distinguish themselves here through added values and achieve stronger customer loyalty through a marketing strategy tailored to the target group.
Key factors for permanently satisfied customers are a high service quality of the online shop, short shipping times, a shop page with high usability as well as short loading times to key elements.
Next Day Delivery and Same Day Delivery
Both options are becoming increasingly important for B2C e-commerce solutions: today's customers are used to getting the goods they want at short notice. To make this possible, we implement future-proof payment processes and logistics concepts for our customers that are seamlessly linked to the web shop.

Internationalisation & country rollouts
Online platforms are often initially optimised for sales in one country. The expansion to further countries and language versions is optimally supported by SAP Commerce Cloud: You can focus entirely on localisation - content, legal issues and locally different processes and payment methods. Synergies from central data storage and development open up scaling effects and additionally increase the economic efficiency of the system.
Our Services for Your Success
Design, consulting and implementation - all from a single source.
We advise you and define the requirements for processes and desired functionalities with you. In doing so, we identify potential for higher efficiency and cost optimisation. According to the framework conditions, we develop the solution design and advise you on the selection of the ideal standard software.
With experienced project managers, we take care of the implementation, the configuration of the standard software and the integration into your existing IT systems. As if that were not enough, we support your IT department with data migration and train your users, and of course we provide you with product licences. 
If required, we offer you the appropriate IT infrastructure and take over its operation - including maintenance, application management and further development.