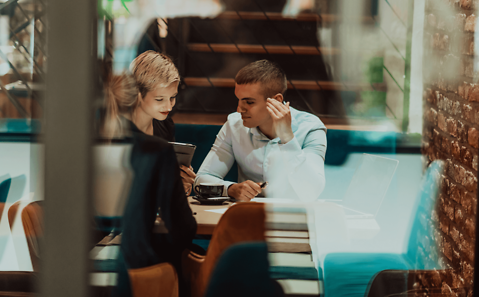 Microsoft Viva Engage: The Solution for Effective Employee Communication
Increase employee engagement and strengthen team cohesion with Viva Engage
Microsoft Viva Engage for More Communication
28.09.2023
Digital Transformation
Microsoft 365
Digital Workplace
Viva Engage - Better Communication and Efficient Collaboration
With Microsoft Viva Engage, you allow your employees to get to know each other better and exchange ideas. Through Viva Engage, they learn more about the interests and preferences of their colleagues and can establish contacts beyond work. This strengthens team cohesion and ensures more efficient cooperation.
Providing your employees with a platform for this is more important than ever in times of remote work. What used to be possible in the kitchen and the lounge now needs a virtual room. Find out more about the advantages of Viva Engage below.
What is Viva Engage?
Viva Engage is a tool in the Microsoft Viva Suite - Microsoft's Employee Experience Platform (EXP). The tool is a Microsoft Teams app powered by Yammer that all employees can access, regardless of where they work. So with Viva Engage, you can improve employee communication and engagement by providing important messages and updates, learning content, relevant documents and other resources in a central, easily accessible environment. These features help foster a harmonious and supportive company culture, engage employees and increase productivity.
The Functions of Viva Engage
Microsoft's Viva Engage is a set of features that aim to improve communications across the organisation and, in turn, the employee experience. While all Viva Engage features are included in the Viva Suite annual subscription, Microsoft 365 and Office 365 enterprise plans also already include some of the features. The Leadership Corner, Social Campaigns, Ask Me Anything Events, Advanced Analytics and Answers in Viva features are licensed through Viva Suite.
With the basic functions of Viva Engage, ...
Employees can create and join public and private communities. They promote the exchange of knowledge and experience as well as collaboration - also across departments and teams.
The administrators of a community make announcements to send information to the entire community. The colleagues concerned see these announcements on all possible devices, regardless of where they are at the moment.
Employees can view relevant conversations, SharePoint news and messages that receive a lot of likes in the start feed. This keeps everyone up to date on what's happening.
Employees can have open conversations . This creates virtual discussions and meetings in which everyone can participate - even between employees and managers. In addition, specific people can be mentioned, conversations can be pinned and pictures, videos and files can be sent.
virtualevents can be planned and carried out.
solutions are found in the team with the Q&A function . You ask a question and can record the best answer. This then appears directly under the question asked.
Employees create posts for their storyline , search for and follow stories from colleagues. This allows them to build their own network within the company. The storyline reflects views and interests, allowing employees to position themselves independently within the company.
With the Engage features licensed through the Viva Suite, employees can ...
Leaders in the Leadership Corner , using news, polls and other features to encourage communication and feedback in communities.
Social Campaigns Drive initiatives that are critical to the success of the business.
AskMe Anything events are held where employees and managers can ask and answer questions. Through these exchanges, managers learn more about the needs and desires of employees.
Leaders with Advanced Analytics gain insight into interactions and trends in Viva Engage.
With answers in Viva, content and knowledge are organised automatically. This facilitates access to relevant information, enabling staff to respond more quickly to community questions.
Would you like to learn more about the other tools of the Viva Suite? You will find all the information you need in our blog article
Do you have any unanswered questions? Then please feel free to contact us.
We will help you further.
How Viva Engage Increases Employee Engagement
The possibilities for interaction are many and appeal to most employees, for example, the employees in the company.
feedback opportunities and
These features encourage interaction and all employees can get involved in topics they are interested in. The advantage is that Viva Engage is an app in Microsoft Teams. This means that employees do not have to leave their familiar digital workplace. They do not need to log in again. Another advantage of Viva Engage are the personalisation options: All employees can add shortcuts to frequently used resources and design their own news feed according to their interests.
Your Reliable Partner - Arvato Systems
As an internationally active IT specialist, Arvato Systems supports your company if you want to promote cohesion among your employees with the help of Viva Engage. If you are unsure whether and to what extent the app is worthwhile for your company, please contact us for advice: The experts at Arvato Systems have many years of experience in digitalizing companies of various sizes. They will make it easier for you to decide and, if necessary, support you during implementation. It doesn't matter whether you have already created a digital workplace in your company or whether you now want to tackle this task from scratch.
If you have any questions, we are here to help. Contact us.