Enterprise Apps: 5 Challenges
How-To: Mobile B2B Applications
Enterprise Apps in B2B: 5 Challenges
04.10.2022
Data Management
Digital Transformation
Application Management
Customer Experience
Enterprise apps are a valuable asset in B2B. But launching a mobile business application in a hurry? It's not that simple. There are five challenges to overcome:
Challenge 1: UX Conception for Enterprise Apps
For users to use a business app regularly, it must be as easy and intuitive as we are all used to from our consumer apps. That's why it's important to ensure that every enterprise app's UX concept and UX design are tailored to the user's needs.
Both design standards and technologies are constantly evolving. To ensure that an enterprise app meets the functional and visual requirements of the target group at all times, it must be permanently developed further. Updates from mobile device manufacturers are particularly critical. This is because companies have no influence whatsoever on the changes. For example, some time ago, Apple replaced the home button on its iPhones, which was placed at the bottom center, with a black bar at the bottom edge of the display. And companies should take advantage of this edge in their enterprise apps, for example, by providing buttons in this position in the design of their mobile application. The important thing is that usability is the main focus, even with such adjustments.
Just as apps used privately accompany us through our everyday lives as a matter of course, enterprise apps must not be a foreign body either. Making this the maxim of app development has a forward-looking dimension. After all, it won't be long before more and more digital natives move up into management positions - this process has already begun. That's why companies are well advised to constantly put established enterprise apps to the test regarding usability and design. Because enterprise apps only achieve a high adoption rate if the usability is suitable. And the UX concept (user experience) and the UI design (user interface) are decisive for this.
Challenge 2: Enterprise App Distribution
What may sound simple at first quickly turns out to be a challenge in practice: distributing enterprise apps to closed user groups. This is because mobile B2B applications in particular, such as sales apps, are not usually available via the Apple Store. There are basically two ways to make them available to the desired users - from your own employees and partners to customers and other stakeholders: Companies can make enterprise apps 
distribute them in a closed area via Apple @ work or
set up their own app store (mobile device management, MDM) and offer their mobile apps there.
You can think of Apple @ work as a kind of hidden app store: To download a particular enterprise app, users need a personal link that is only valid once, or a QR code. They can obtain both via e-mail or the intranet. This also applies to enterprise apps that are accessible via Apple @ work: Installation is automatic, and the same applies to the installation of updates.
The latest deployment option at Apple is the so-called Unlisted App Distribution. Unlisted enterprise apps are also only available via a direct link. Apple itself names part-time employees, franchisees, partners, students and conference participants as predestined user groups. In addition, Unlisted App Distribution is suitable for employee-owned devices that cannot be managed via Apple School Manager or Apple Business Manager, as well as for managed and unmanaged devices.
Companies that opt for Android-based enterprise apps, on the other hand, can offer mobile business apps that are not listed in the Google Play Store or make them available via link as well.
Regardless of how companies make enterprise apps available, it makes sense to accompany the launch with a small marketing campaign. After all, even the best business app will be unsuccessful if no one uses it. There are many ways to do this, from informative articles on the intranet to videocasts and roadshows. The important thing is that the focus is always on the practical advantages and added value of the enterprise app.
 
Challenge 3: Enterprise App Operation
Of course, we are all always on. Nevertheless, it makes sense to set up enterprise apps in such a way that they also function offline. In other words, to ensure that the enterprise app can still be used in the event of a poor or no Internet connection, it should be possible to temporarily store relevant data on the mobile device and synchronize it later, i.e. when the connection is restored. 
To synchronize data effectively and efficiently at all times, you need a cleanly structured backend - with an intermediary platform for data exchange like Arvato SyncTank. Arvato SyncTank consolidates data from various source systems and makes it available centrally for the desired target application, such as an enterprise app, via an API. It is important that data provisioning and data synchronization only take place with a stable WLAN connection. Otherwise, an enterprise app might require a very large data volume for this.
 
4. Challenge: Data Up-To-Dateness for Enterprise Apps
In addition, there is another aspect to consider with regard to the operation of enterprise apps. Unlike other business applications, an enterprise app is an application that companies do not run on a server or in the cloud, but directly on the user's smartphone or tablet. This is why it is not possible to automatically import updates for all users at the click of a mouse. The user must initiate the update of his enterprise app himself. For this reason, it is important to make all user groups aware of how important updates are for trouble-free and secure operation of the enterprise app.
Arvato SyncTank once again plays to its strengths when it comes to implementing updates on the technology side: The platform links ERP, CRM, CMS, PIM, store as well as other systems and effectively makes the consolidated data from these sources available for efficient use via the Enterprise App. Since the data is synchronized in real time in the backend, it is ensured that up-to-date data is available at all times in the frontend, i.e. in the Enterprise App - which is particularly crucial for sales when presenting product specifications and price lists.
 
Challenge 5: Enterprise App Security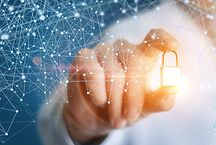 When providing data and operating and updating enterprise apps, security must be ensured at all times. On the one hand, this includes securing relevant back-end systems against unauthorized access. On the other hand, mobile device management must ensure that even confidential and highly sensitive data is securely available for mobile applications. This can be achieved, for example, via app-internal VPN connections. In this way, Single App VPN ensures that a specific enterprise app can access the desired resources in the back end. At the same time, other applications do not have this authorization for the corresponding use case. It is equally important that passwords are transmitted in encrypted form. The first log-in page should also be encrypted. Last, it is important to ensure that app hardening is performed via the framework. 
Microsoft Intune is the first choice for secure mobile device management for many companies. With its proven security solutions, Microsoft is a reliable partner. We will be happy to discuss which Managed Microsoft Security Services are suitable for you in a joint Security Strategy Workshop.
 
Trust in Our Know-How!
The list of challenges may be long. But with the right partner at your side, you get highly functional yet intuitive enterprise apps that are always up-to-date and secure.