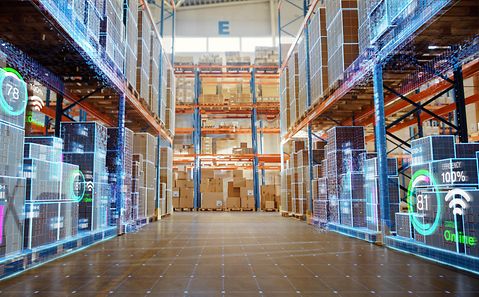 Digital Supply Chain: We Accompany You in the Digitization of Your Logistics Processes
Supply Chain Management (SCM) and Logistics with Potential for Your Future
Digital Supply Chain: Boost the Digitization of Your Logistics Processes
Supply chain management is changing rapidly, and yesterday's business and service models will be put to the test in the coming years. System integrators also need to rethink their approach. We are developing innovative strategies and models for our clients that focus on an entrepreneurial approach to thinking and acting.
At Arvato Systems, we drive the Digital Transformation along the supply chain with our innovative SCM and logistics solutions. With our "Business Transformation Roadmap," we work with our customers to create the ideal roadmap for optimizing their logistics processes and supply chains - from Procure to Pay to Make to Stock and Inbound to Outbound to Order to Cash. With our expertise in integrated end-to-end processes, we ensure long-term business success.
Whether you are still at the very beginning of your digitization journey or are already on your way - we will pick you up where you currently are and offer you individually tailored solutions for the digitization of your entire supply chain. Find more information on our topics and learn more about our innovative solutions for your logistics processes.

Logistics Trend Radar - Vote now!
Whether artificial intelligence, warehouse robotics, the Internet of Things or the digital twin - we would like to know from you which trends are currently driving you particularly in your logistics processes. 
Take part in our logistics trend radar and rank your top 5 topics now!
 
Our Services For Your Success
As an international IT specialist, we offer more than Service Level Agreements or licenses. We manage our clients' entire long-term business development. The task requires comprehensive SCM expertise, flexibility, innovation, and an entrepreneurial approach to thinking and acting. We serve as our clients' strategic and technology partner, IT implementation and process optimization specialist, education and change manager, and service partner for hosting and applications.
As a long-standing SAP Gold Partner, our expertise includes consulting services and implementations of SAP solutions, such as SAP S/4HANA, SAP EWM, or SAP TM. On the other hand, we also successfully close digitization gaps in logistics with our specially developed cloud platform platbricks® - as supplements to our SAP solutions or as a stand-alone logistics solution. This enables us to individually adapt the optimization options along the supply chain to the requirements, needs, and initial situations of our customers.
In addition to efficiency, sustainability and future-proofing, we also stand for innovation in the Digital Transformation of the supply chain. With mobile logistics apps, chatbots, or AI & analytics, we show companies what today's modern and efficient logistics look like and which trends of tomorrow they should already be focusing on now.